Chapter XIV –- Nightclub DPs (based on Intimate Confessions, No. 18 , Super Comics, 1964)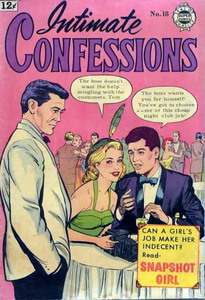 Tags: M/M/F, oral, anal, DP, facial
There is nothing better than the night life. To a girl like me, God's best gift to humanity is to be able to enjoy the things life gives to a person. And to me, the best things are going out at night and see people.
Yes, I am a nightclub rat and I do not regret. I go to every hotspot the society goes and meet people, talk with people. And the most important at all, I always leave the club with a companion, usually of the male gender.
The big reasons I love to go out at night is that I am never without a guy at my shoulders. I love to go to the finest places and find the hottest men around and play the seduction game. And I always win! Even when I find the game hard, I manage to find a guy where I can spend the night doing you-know-what, if I cannot get clearer than this…
Because of that, I have so much adventures to tell you but now I'll begin with the one I remind the most and the night I could realize a fantasy I was dying to do: have my first threesome with two guys. I just get wet but just even make the mere thought to remember that night at the Glitz.
Glitz was one of the most exclusive clubs around where only the top dogs and pretty ladies went. Actors, sports stars, TV people, musicians, politicians… name someone with a hint of celebrity and I can tell you if I saw him or her there.
Gina, a friend of mine, dated one of the owners of the place and she told me she could put me in the VIP list anytime I wanted go there. Of course I said yes, why I would turn it down the opportunity to get into a cool, fancy, point and score a nice dude for my own entertainment.
"Sharon, Glitz is your place! It's filled of hot guys, it's like dying and going to paradise!"
"Really? Oh shit! I will love to go other. And being at the VIP list… dear Lord, I hope to snatch any hot hunk there, perhaps a celebrity"
"Well, and there is one thing that might interesting to know"
"What?"
"They say there is a VIP area, very exclusive. It's there when the guys get the girls and who knows what happens there…"
"Do you mean there…"
"So far, what I've heard are stories I cannot confirm. But I have to say the things get steamier into here. And knowing you, if you are on the list… who knows if you don't discover by personal account"
Gina's revealing got me intrigued and, at the same time, horny! Would the hottest club in town have an exclusive and hidden place where the A-List people fucked in orgies and stuff? Or this was just another story of 'upper class lore'? But I would not let them, if that was the truth, to fuck and I do not get one single piece of that! Not at all, chap.
She and her boyfriend arranged me to get into the permanent VIP list there first. Then one day I decided to hit the Glitz to find out myself if what she told me was truth. Of course my mission wouldn't be that hard, because I know how to bring heat to the places I go. And the best of it all never leave without having the fun.
Then, I finally went to Glitz. It was packed to the rafters that place! Everyone who is somebody was there; it was like the entire city was into a single place. You step in the foot of a A-list celebrity or some big wig politician's son just by breathing.
And what should I do in order to test Gina's theory? Well, the idea was the usual: find a hunk, talk with him, work my seduction powers and BANG, there we are! But since it was my first visit to the town's hot spot, I decided to be bold and do something I always wanted to do, but never accomplish even in my raucous night life: have sex with two men at the same time.
Guess you ask right now why I never fucked two guys together, but it's a little bit complicated to find an answer. But that was never a concern in my sex life until that night. And I was ready to make my big break into the glitzy A-list world.
And my eyes were set for the first 'pray'. A handsome mature guy with white tux and a very hunky look was the one I set my eyes in. He was with a few girls around drinking whisky but when the 'vultures' went off, it was my time to act.
"Seems you are the center of the attention here"
"Well, what can I say?"
"I don't remember to see you here. Are you new in town?"
"Nope, I am visiting my brother for a few days. I live in Texas"
"Texas? Wow! Isn't the place where everything is big?"
"I've seen bigger places"
"And I can see that you might be a fix for Texas"
"Haha! You look pretty sassy, miss…"
"Sharon Campbell. Now is your turn to tell me yours"
"I am Declan Reid"
Declan was the kind of man I love to date. Rich, beautiful, smooth talk, the guy who really has what I need in a guy. He was the perfect man for any date in the ordinary club and I didn't waste time to pick him as the one I wanted to score at the threesome I wanted to have that night.
We quickly mingled and began to kiss, even after like what, 10 minutes knowing each other? He got me so hot down there that I wanted to do him right on stop, however my plans aimed for him to open the field to his 'partner' and 'second' contestant.
That was Tom Millagro. Another handsome stallion which I began to flirt when Declan went to see his brother and family, which were at Glitz. I eyed him and did the courtship with it before he approached the table I was.
"I am wondering how a beauty like is all alone tonight"
"I am with a friend, but she went with her boyfriend to the VIP boxes. And I am just chilling out here, looking to handsome men like you"
"Glad you noticed me. I paid attention at you since you walked first here. That guy who was with you is your boyfriend?"
"Nope, but I think we should talk something pleasant now"
Tom bit the bait! He sat next to me and, as it happened with Declan, we got it right from the beginning. Another guy with much money and a good life and, well, who made me horny as fuck It had to be him and Declan.
And guess what happened? As like the previous boy, me and Tom made out right here, without even thinking about it was the proper time. Why complain if two single people have attraction for each other and want to show it? At least, my plan seemed to be working out
"Gosh, Sharon, you are so hot! I never felt so much the hots for somebody like you"
"Tom, less talking, more kissing"
I think we could do it right now, but there wouldn't be a threesome to be done here. When Declan came back, he noticed Tom and I and I could see him pissed off because somebody 'stole his girl' from him. He went to my table clenching his fists like he would give Tom the best fight of his life.
"Can I know who is this guy, Sharon?"
"Declan! Hey!"
"What are you doing here, pal? Can't you see she is with somebody?"
"I can see that she is with somebody. And that somebody was myself, chump!"
"Chump? What are you trying to do, you fuck ass?"
"Gentlemen! Please! Why are you fighting? We just met like what… ten, fifteen minutes ago?"
I knew the heat was getting bigger and one spark could make my plan fail. But it was time to show them that they would experience the best sex of their lives.
"Can't we get along? Come here, Declan, let's talk"
"Talk? You were just kissing him!"
"Come here and I'll explain it all. No need to feel angry with Tom. I know you two can get along"
The two guys were so pissed off with each other because they both wanted me. Then I decided to go for a trick to show my real intentions for these two.
"Boys, you don't need to be angry with each other. I am here for you two, guys"
"Excuse me?"
"Look, what about we cool off the steam here with a little game, huh?"
You have to see their faces when I put my hands on their crotches and began to rub them through their trousers. It was like 'what the hell is she doing?' I looked to Declan and Tom like a naughty kid doing wrong stuff, but I didn't stop. And guess what I did?
"Boys, I am here for you two. Let's be good friends, there is Sharon Campbell for any of you"
Since pretty much no one would see us, because of darker lights and stuff, I went bold and managed to take their dicks out of the guys pants and began to jerk them off at the table. I knew both were into it and they quickly become hard as I began to work on them. And, of course, to moan.
"Boys, I came here because I wanted to fuck you both. And I want to do you both. Together. Are we in a deal or not?"
I think my masturbation skills were enough for them to not voice any denial. Soon they began to kiss me, from mouth to neck and feel my boobs. I could say by what they were doing that they overcame their issues with each other, if we can put it with these words.
"You can feast on me all the way, boys"
"Gosh, Sharon… you are fucking kinky"
"Never felt that was so exciting kiss a girl another guy is kissing"
It was coordinated action like if it was done by two friends that knew since high school, the whole kissing and touching. Now it was the proper time to find out about that VIP room legend.
"Shall we go somewhere private, gentlemen?"
"To where?"
I relayed to Gina's boyfriend about the VIP boxes location and he told a guy to get me there. It was me, Declan and Tom, the three of us ready to have sex. In the way, I could see that the legend was real: in every room, I could see silhouettes or even the faces of the people there. Guys, girls, guys doing guys, girls doing girls, both genders together, all kinds of things you wouldn't believe. Even learned that some people who I thought it wasn't were and people that I thought were actually weren't.
When the messenger put us inside the box we went, one that was just for us and with even a phone were we could do requests, we didn't lost a second. I just bend on my knees and began to suck the men I was to do.
"Uhhhh… Sharon"
"Ahhhhhhhhh!"
It was a crazy night that one. I took turns on sucking Tom and Declan's dicks but also there were so many stuff, like me giving head to Tom while the other guy ate my pussy and the opposite thereafter. The two guys were so hungry to do me that I let them do as they please to make me turned on before the real deal.
"I want so much your cocks, guys!"
'Your wish is an order, madam"
Then, Declan began to fuck my pussy while I sucked Tom's dick. Again, everything coordinated as if they were buddies who trained years with other women. My mouth and cunt were filled with finest cock I found that night. Finally, what I desired was done.
"Keep it going, guys! Ahhhh! Hmmm… oh yeah!"
"Tom, that's one fucking hot pussy"
"I want to see it when I get it, Declan"
Declan got his turn when we sit on a couch there, me riding his dick and then getting throat-fucked by Tom. Every second we spent there (I didn't know what time was by then), the three of us were bold to do stuff guess no one would imagine to do that night.
The boys took turns on fucking me until I told them an idea they were on board from the very zero second I uttered the words.
"If I tell you I never had a DP before, would you believe it?"
"And if we tell you 'until tonight', Sharon?"
I just put myself in position just when Tom replied me such. Declan nodded with agreement and both men took their positions, as Tom was underneath me and filling my pussy while Declan licked and fingered my ass before his cock went all in
"Ahhhhhh! Uhh… Come on boys! Show your worth to mama!"
They did! They began the usual, slow and good but then, when they picked up pace, dear Lord! I thought those things only happened in porn, but I was there, being fucked by two men at the same time, for real!
"How is the view, Tom?"
"Amazing, Declan. And there?"
"As beautiful as you can see, man"
Joyful I was with all that happened. Two cocks pumping into my holes. I couldn't believe that was true. To me, I was having a dream and I feared something could wake me up to lose it. But it wasn't. I was getting the best from two amazing hunks.
"Come on, boys! Fuck me! Fuck me boys! That's it! Ahhhhhhhhh!"
They pushed me further, pumping their rods inside my slit all what they could. At the end, my face and titties got sprayed by their cum. What a night! The best night of my life!
"Boys, you two were amazing!"
"We did what you wanted to do, Sharon"
"We are the ones who should get pleased to do somebody like you"
Of course, I left Glitz with the two men around my arms and went home, where we did it all again! Now, the place where I want to go to lay with some handsome chap is Glitz. I might someday share stories about my exploits there, but let's keep your mind wondering about it